Article contributed by Zahrah Aullybocus, Nexa Law
Leasehold Flats – Buildings Under the 11m Height: What Are the Considerations and Risks?
The Building Safety Act 2022 ('BSA') has created a minefield for conveyancers to navigate through in relation to flats located in buildings above 11m. However, where does this leave the flats under the 11m height, and do you think you are safe?  
We can safely establish that there are no Leaseholder protections given under the BSA for any remediation work required, whether it is cladding or anything else for flats situated in a building under the 11m height. 
The BSA Certificates do not apply to these blocks and a lot of these are 'leaseholder owned' so the residents-run management companies are going to be clueless as to how to apply the new legislation. I downloaded a useful little table for the Polluter Pays campaign which shows the current position at the top against what they are hoping to achieve – this would certainly make life easier from a conveyancing point of view! The top half of the table sets out the "Current Building Safety Act leaseholder 'partial' protections" (where there is Leaseholder liability, it is highlighted in pink). The bottom half  contains proposed reforms which aim to protect all leaseholders). You can see clearly there is no salvation in terms of costs for leaseholders who have bought in the lower-rise flats, or where the building is leaseholder owned.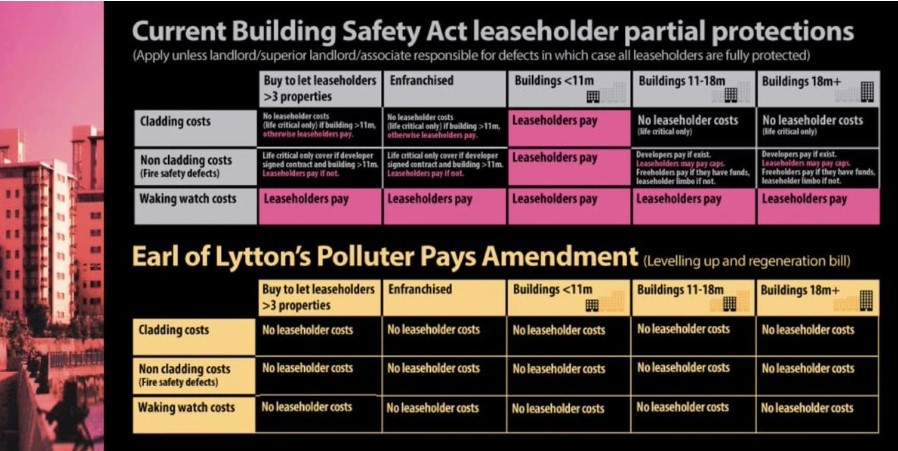 Be careful when checking 'height' – just because a building is 4 storeys, does not mean it is not 11m and therefore it is important to have the building measured. A 4-storey building could be 11m in height (especially if they are one of those buildings with higher ceilings).  
Fire Safety 
The Fire Safety (England) Regulations 2022 will apply to any building containing 2 or more domestic premises. (See page 2 of the attached flow chart issued by PL Uk). Please look at the Practice Points listed at the bottom.  
Clients must be advised to get surveys and check that the front door to their flats. Fact sheet: Fire doors (regulation 10) – GOV.UK (www.gov.uk) Their front doors must include some fire resistance (especially where the door opens onto a communal area). We are not going to know if there are any fire resistance measures between ceilings and floors above.  
We should also be asking for copies of the "Instructions to Residents" – previously we have just relied on this being done directly between the Managing Agent/Landlord and the Leaseholder. However, due to the risks of invalidating insurance (or perhaps a covenant in the lease not to do anything which may invalidate the building insurance), it may be prudent to ensure the incoming buyer knows what to do/what not to do. (I have had some pretenders in the past try to do their own FRAs, especially where the building is residents run). 
Be aware that some surveyors are saying that when they go to see flats, they are also checking the rest of the building, and if there is cladding or some material on the outside of the building (e.g., wooden decking balconies), they are recommending that these be removed/replaced – at cost to the leaseholder.  The remediation work will need to be assessed, costed and of course the leaseholders of these flats have NO PROTECTION under the BSA as they are under the 11m height. Where this information is revealed, do ensure you flag it to your client and/or ensure it is raised with your mortgage lender. 
I think the 'name of the game' is to hazard a guess with our crystal ball as to how much remediation costs will be. It appears lenders are basically weighing up whether or not the borrower will be able to afford remediation costs (great if we can establish there are 'leaseholder protections' for those flats 11m or above as there will be a cap on the 'other remediation costs' and a complete ban on cladding costs), but not so much on those blocks under the 11m height which have been built in the last 30 years (we all know that newbuilds have been put together with numerous 'corners cut', despite building regulations).    
You also need to limit your liability in terms of the conclusions you have come to in that whilst you may be able to 'guesstimate' a figure at the point of purchase, the information may change at a future date and we cannot be held responsible for information/costs that comes to light after the transaction that has been concluded. 
The issue is then this at part 1 of the Lender's Handbook: 

We are going to have to fight mortgage lenders every step of the way, as to whether or not the BSA applies as it appears they want to be able to establish if the leaseholders can pursue the original developers where the developer has put up a duff building (not just cladding, could be anything that makes the building unsafe whether it is a structural issue or fire safety issue).   
Conveyancers you should be increasing fees to cover additional work now required by leaseholds!   
It is not going to be an easy task to provide effective warnings to clients (who probably do not read a thing we give them!)  We will have less information where the flat is located in a building under the 11m height as the Landlord is not obliged to provide details of the developer, etc. as per the Landlord's Certificate on the higher rises.  
We are also going to face issues where the building is residents' run and no one has kept information relating to the original construction of the property (for example, where the property has been built/converted then handed to a residents run management company to administer).  
Conveyancers have not been fully informed yet as to the implications of the "Responsible Person" ('RP') which basically makes someone (a natural person, not a company) criminally responsible if the safety of the building is not looked after, and this could result in a prison term (e.g. if the building burns down and people die). There is a lot more record keeping that needs to be done and advice given to Landlords (whether they are professional Landlords or residents-run buildings). Many residents may not know that they have or will become a "Responsible Person" due to part ownership of the freehold. A link to the duties of the Responsible Person is here: https://www.gov.uk/guidance/check-your-fire-safety-responsibilities-under-the-fire-safety-order#responsible-person-responsibilities 
A question asking who the Responsible Person is has not yet been put onto the LPE1 form. If there is a breach of the Fire Safety Order (2005), the building (and owner) may be subject to an enforcement notice or prosecution (thereby creating a personal liability for those buildings which are residents run). 
Local fire and rescue authorities may inspect premises and can issue enforcement notices telling the owners about changes that need to be made.  
Enforcement Notices – Question 8.21 on the LPE1 form 
Q&A with Roy Carter, Consultant at Nexa Law and General Counsel and Specialist Regulatory Fire Partner. Fire Safety – Nexa 
My colleague Roy Carter who specialises in regulated fire safety and enforcement has kindly provided some general information about fire safety and enforcement regarding the "Enforcement Notices" question at 8.21 on the new LPE1 Form.  
Below are simplified notes from my conversation. 
The Regulatory Reform (Fire Safety) Order 2005 (the Fire Safety Order) provides for three types of statutory notices: Enforcement, Prohibition, and Alterations. These notices can result in prosecution if not obeyed. 
Among them, the Prohibition Notice is the firmest, requiring compliance from everyone, not just the responsible person (RP). In conveyancing transactions, it is crucial to consider fire safety as it can significantly impact potential buyers. It may impose severe restrictions on the premises, even prohibiting entry to the entire building. Acquiring an unusable property would be impractical. 
An Enforcement Notice allows fire authorities to request responsible persons to meet relevant fire safety standards under the Fire Safety Order and associated regulations. Compliance may involve costly remedial work, such as replacing fire doors or installing new fire alarm systems, which could burden the buyer with expenses. 
An Alteration Notice applies to premises considered high risk or potentially become an increased risk if any changes are made. Its purpose is to inform the fire authority about possible issues and enable them to intervene before any modifications are made that could significantly raise the risk level. 
When an alterations notice has been issued for a particular premises, the responsible person must inform the enforcing fire authority before proceeding with any of the following changes: 
Alterations to the premises.

 
Modifications to any services, fittings, or equipment within the premises.

 

An increase in the number of dangerous substances present on the premises.

 

Changes to the intended use of the premises.

 
Under the Environment and Safety Information Act 1988, fire authorities are responsible for keeping records of notices issued under the Fire Safety Order. These records must be available for public inspection, without any cost, during reasonable hours. They are now available online.  
To exercise due diligence and identify if any of these notices are current, and if there are doubts about information provided by the landlord or management company, you can undertake a search of the local fire authority's enforcement register, which can be carried out on the National Fire Chiefs Council online database, Microsoft Power BI. It is important to note that staff members responding to the LPE1 form may not have the required training or qualifications to address the raised questions, especially when purchasing from a social housing provider. 
Occasionally, a fire authority may issue a "notice of defects," notifying the responsible person of fire safety defects within premises. However, these letters are not required to be recorded on a public register. If concerns continue, a conveyancer can ask the landlord or management company if there has been any contact from the fire authority regarding fire safety. 
Moreover, it is now clear that Fire Risk Assessments (FRAs) should include External Wall surveys including balconies, regardless of building height. Additional information can be found in the Fire Safety Act 2021 factsheet issued by the Government, Fire Safety Act 2021 factsheet: Information for lenders – GOV.UK (www.gov.uk). 
Regarding the frequency of FRAs, lease-advice.org suggests conducting them every 2-4 years. However, it is advisable not to rely solely on this recommendation. FRAs should be dynamic and completed as necessary, considering the building's circumstances, especially when changes occur. 
The Government has also published The Fire Risk Assessment Prioritisation Tool Prioritise updating your fire risk assessments as a Responsible Person | Fire Risk Assessment Prioritisation Tool (bpt.homeoffice.gov.uk). This online tool allows RPs to prioritise how soon fire risk assessments should be updated. As well as a fact sheet, Fire Safety Act 2021 factsheet: The Fire Risk Assessment Prioritisation Tool – GOV.UK (www.gov.uk). 
Attention to the responses provided at 5.6.1 and 5.6.2 of the LPE1 form is essential. 
Clients should be informed that conveyancers are not fire safety experts, and their scope is limited to confirming this fact. External resources can be provided to clients seeking fire safety advice, along with a warning that non-compliance could potentially invalidate the building's insurance. 
Fire safety may seem insignificant to some buyers, but it is crucial for their safety and financial well-being. An adequate insurance policy is necessary to cover the costs of rebuilding the property in the event of a catastrophe. If the building's insurance is invalidated and there is an existing mortgage, the mortgage liability continues, even if the property becomes unusable. 
Whilst beyond the scope of this note, conveyancers should also consider the matter of Remediation Orders under the Building Safety Act 2022. Building owners, along with management companies, freeholders, and superior landlords who have repairing obligations, can be subject to remediation orders. Where the order is breached the county court has the authority to enforce compliance. For further information see, Making sure remediation work is done – GOV.UK (www.gov.uk). 
Here are some simple tips from the Government that can be provided to any purchaser: Make your home safe from fire – GOV.UK (www.gov.uk)